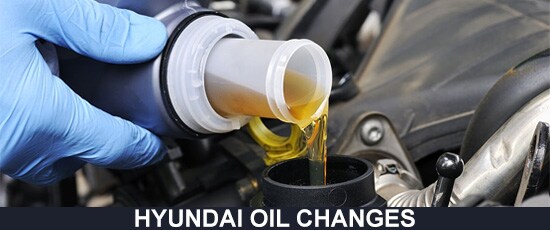 Oil changes may seem like a minor chore or routine inconvenience to you, but to your vehicle oil changes often are the difference between proper, efficient engine operations and complete engine failure. Regular oil changes both keep your engine functioning and help prevent against ugly and expensive disasters like blown gaskets, engine seizures, and other issues.
You can either have Hyundai oil changes performed at your local Hyundai dealership's service center near Whitefish Bay or you can do it yourself. But before you begin, make sure you know the right tips to get the job done right. Tips like understanding whether it's better to change your oil when the engine is cold or warm. You'll find the answer to this in the following look at Hyundai oil changes:
One of the biggest disputes in home Hyundai oil changes is whether you should change your oil while the vehicle is cold or warm. In other words, should you wait for your engine to cool down before performing an oil change or should you perform an oil change shortly after your engine has been running and is warm to the touch? The following are the pros for both:
The Pros to Changing Oil When the Engine is Warm
When your engine is warm, so too is your oil, and hot or warm oil is less viscous and drains quickly.
Warmer oil filter seals are often easier to remove.
When your engine is running, your oil gets circulated and picks up contaminants. So when you complete an oil change shortly after your vehicle's been operating, you'll remove the majority of those contaminants.
The Pros to Changing Oil When the Engine is Cold
You won't risk being burned by hot or warm oil. This is critical as proceeding to immediately change your oil after your vehicle has been driven for 20 minutes or more can result in having oil temperatures of 200 degrees Fahrenheit or more running down your arms.
As oil sits, it drains into the oil pan. When you change your Hyundai's oil cold, you'll have more oil drained there.
So for drivers who do not want to risk being burned, it's best to change your oil after you vehicle has sat overnight. While this will take longer and you may leave some particulates inside, you also won't risk a trip to the emergency room.
However, if you feel comfortable around your engine and are handy with tools, then consider what we call the five-minute rule. With the five-minute rule, go to your vehicle after it's cool, turn it on and let the engine run for about five minutes before turning the vehicle off and getting started with an engine change. This five-minute warmup will heat your engine's oil up and thin it out so that it'll flow better during the oil change. Having been recently circulated, even if it was just for a few minutes, also means that it captured recent contaminants and particulates that were in your engine and will hold them in suspension for removal during the change.
If you are uncertain about performing an oil change, consider coming down and visiting our expert technicians at Hyundai Greenfield. Our friendly, experienced team is always here to answer your questions and perform quick and complete Hyundai oil changes. Hyundai Greenfield dealership and service center is located at 6133 27th St., Greenfield, WI, conveniently just a short highway hop away from Milwaukee neighborhoods like Brown Deer, Oak Creek, and Racine.