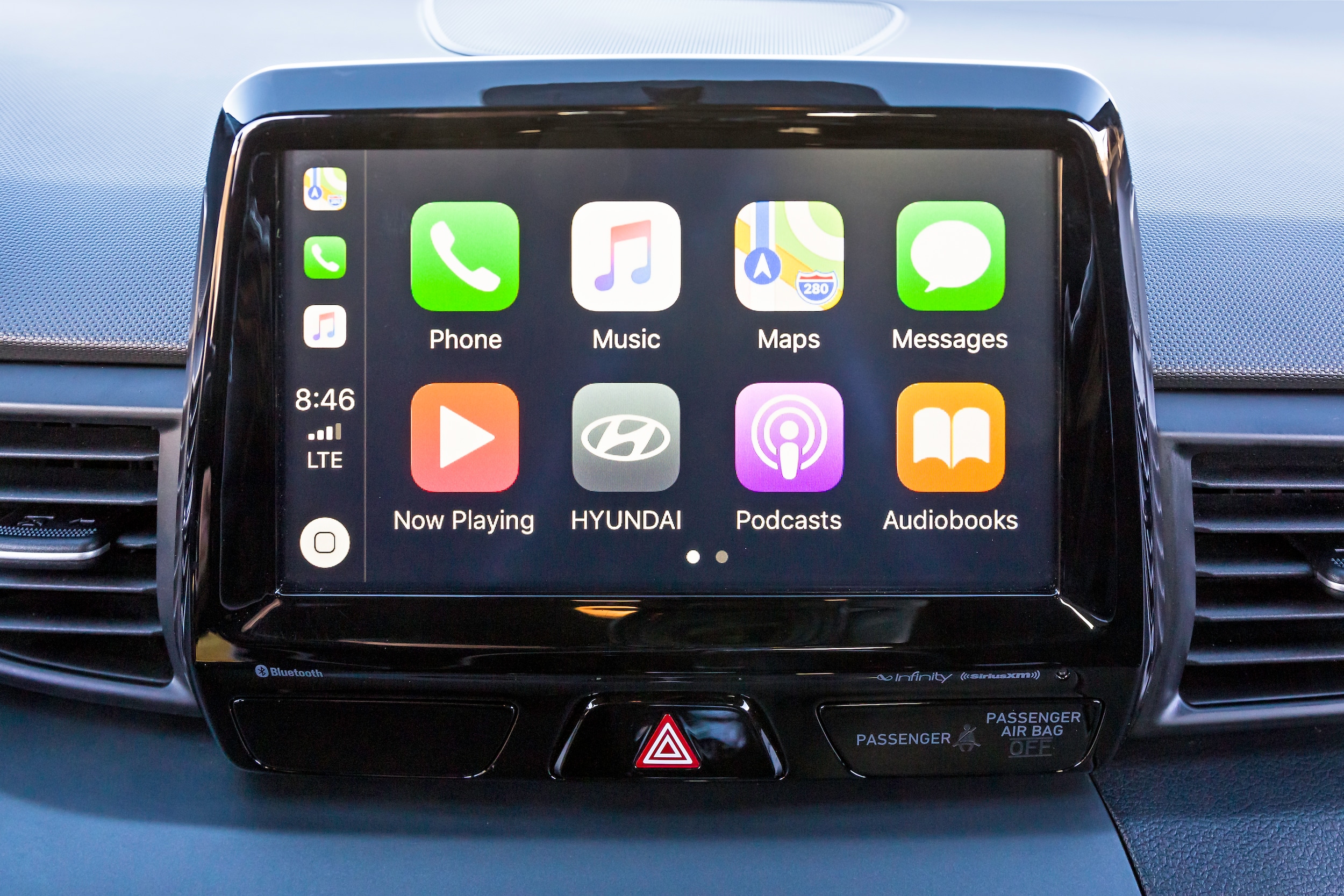 The first iPhone was released in 2007 with the first Android smartphone coming out shortly after in 2008. That's just a decade ago and yet smartphones have completely changed how many Americans work, enjoy entertainment, and stay connected with friends and family. They have also become our GPS go-to system for immediate navigation help (so long Mapquest printouts), our music and news platform, and our information assistant. Yet, we all know the dangers of playing with our phone while driving. Thankfully with Hyundai Android Auto, you can have your cake and eat it too. Here's what you need to know:
The Basics of Hyundai Android Auto
Simply put, Android Auto is a tech solution that enables you to connect your smartphone with the high-definition navigation screen found in the center dashboard of modern Hyundais. Drivers can then easily access information via specialized buttons on the steering wheel or by tapping controls on the navigation screen so they can get to where they need to be without their eyes straying far, if at all, from the road.
3 Things to Know About Hyundai Android Auto
Become Confident with Ok Google. While you certainly can use the aforementioned steering wheel buttons or navigation screen control to access Hyundai Android Auto, by far the simplest way to use the system is with voice commands. On the steering wheel, there is a voice command button that operates on Ok Google voice recognition. With it turned on, you can direct Google, navigation, have incoming text messages and more read to you out loud.
Control Your Music & Podcast Playback with Ease. How many people enjoy driving in complete silence? Not many. Most of us have a favorite type of music, radio disc jockeys, podcasts, or audiobooks that we enjoy during our long commutes to downtown Milwaukee or around our Brown Deer neighborhoods. With Android Auto, you can keep your favorites close and get access to more of the things you enjoy via the Hyundai Android Auto system. Simply download Spotify, Pandora, Audible, or other apps that enable you to access your favorite sounds and enjoy seamless connection no matter where the road takes you.
Navigate Everywhere with Ease. Hyundai Android Auto makes navigating easier than ever, even if you have to make a last-minute addition on your route when you're already on the highway. Again, the 'Ok Google' command is your best friend. Simply speak the term aloud and say what you're looking for, whether it's a specific street address or the closed Mexican restaurant that's open past 11. Whatever the case, the Hyundai Android Auto will take you to the Maps page which will source its data from Google Maps. The system will then audibly suggest the available routes and, once you confirm, in less than 30 seconds the system will automatically start relaying the directions to get you to where you want to go.
Visit Us at Hyundai Greenfield to Learn More and Test Out the Hyundai Android Auto
Want to test out the above features before you begin researching your next vehicle? Or maybe you already bought a Hyundai but still can't figure this system out? Whatever the case, we want to invite you to come down to our Milwaukee-area dealership to speak with one of our representatives who will take you through the controls in person. And when you are ready to buy your next vehicle, know that we're here with a wide selection of new, used, and Certified Pre-Owned vehicles for you to choose from. Come down and visit us at our location at 6133 S. 27th Street in Greenfield.