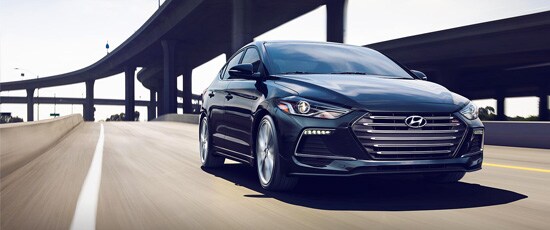 Chances are that you have noticed a 2017 Hyundai Elantra while driving around the Milwaukee area. Not only is this model a popular choice, its sleek, sporty and eye-catching design is hard not to notice. If you haven't taken a closer look at what the Elantra has to offer, you will be impressed to learn about all the ways this vehicle stands out from the competition. Here are just a few of the highlights:
1) Top rated midsize car among experts and critics
The midsize sedan category represents a crowded field, but the Elantra has still managed to climb to the top and provide a superior vehicle. It ranks highly when it comes to both interior and exterior styling and performance. Unlike other vehicles, it offers a comprehensive package that checks all the boxes.
2) Excellent gas mileage
If you are concerned with limiting your carbon footprint and saving money on unpredictable gas prices, then the 2017 Hyundai Elantra is a great choice. You can still enjoy a speedy and powerful car that is fun to drive without eating up gas.
3) Plenty of passenger and cargo space
When you visit Hyundai Greenfield to test drive the 2017 Hyundai Elantra, you will be instantly impressed by the stylish interior. It includes plenty of details that make the Elantra look and feel like a luxury vehicle. Intelligent engineering also means that the interior is well designed in order to provide spacious seating and plenty of cargo space for the driver on the go. Whether you need to transport groceries or sports equipment, the Elantra can keep up with your daily life and your hobbies.
4) The latest technology and available features
You can pick and choose from a long list of available features to find the perfect Elantra for your needs. From a power sunroof, push-button start and an eight-speaker infinity audio system to a infotainment system that takes the guesswork out of navigation, the Elantra comes equipped with the latest technology. Enjoy a cutting-edge vehicle that is compatible with a variety of phones and other devices so that you can get the most out of your electronics.
5) Sporty design and performance
Driving is a part of our daily lives, but that doesn't mean it shouldn't also be fun. The innovative styling of the Elantra can't be overstated and is a part of what makes it a joy to drive. It doesn't hurt that is it is also powered by a turbocharged engine with direct fuel injection that provides excellent acceleration. With its sporty design and industry-leading performance, you might just start taking the long way home.
To learn more about what makes the 2017 Hyundai Elantra stand out from the competition, visit Hyundai Greenfield today and test drive one of our models. We are conveniently located a short drive from Racine, Oak Creek, Whitefish Bay and other surrounding communities. Stop by after work or on Saturday and shop at your convenience with our extended hours. We look forward to meeting you and showing off our extensive inventory of available Elantras.