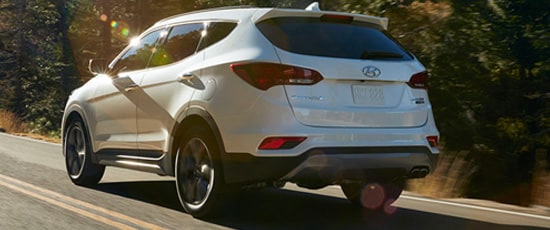 With seating for up to seven and a maximum cargo capacity of 80 cubic feet, the 2017 Hyundai Santa Fe has lots of room inside it. Despite having so much room, sometimes you can't fit everything you want to bring inside the SUV. Thankfully, the new Santa Fe is more than capable of towing something behind it.

An Engine Capable of Pulling
The 2017 Hyundai Santa Fe is equipped with a 3.3-L V6 that provides quick acceleration and is more than capable of pulling. The engine puts out 290 hp and 252 lb.-ft. of torque, thanks in part to its dual-continuous variable valve timing.
A 6-speed SHIFTRONIC automatic transmission makes sure all of the engine's power is transferred to the wheels, and an available all-wheel drivetrain helps maintain traction in slippery conditions.
Whether accelerating up an onramp or going up a mountainous road, the new Santa Fe has the power needed to not only pull a trailer but to accelerate while doing so.
A Chassis Built for Towing
Being a true SUV, the 2017 Hyundai Santa Fe is built on a truck chassis rather than a car chassis. This makes the SUV's towing capacity much higher than crossovers (which are often built on car chassis). When properly equipped, the new Santa Fe can tow up to 5,000 lbs.
A maximum towing capacity of 5,000 lbs. is more than enough for most people's needs. It's sufficient for towing many boats, jet skis, snowmobiles, campers, utility trailers and other trailers.
The SUV's towing capacity is even suitable for many light and medium commercial uses. For instance, 5,000 lbs. is more than many wood chippers, lawn mowers and food trailers weigh.
Whether going on a cross-country trip for a family vacation or to a customer's site for work, you can take the new Santa Fe just about anywhere you're headed. Load the gear, hitch up the trailer and pile everyone in. The next stop is wherever you're headed.
To experience the 2017 Hyundai Santa Fe in action, take it for a test drive at Hyundai Greenfield. Conveniently located on S. 27th Street in Greenfield, the dealership is only a short drive from Racine, Whitefish Bay and Brown Deer.
On Hyundai Greenfield's lots, you'll find many Santa Fe SUVs ready for test driving because the dealership is now part of the International Autos Group. IAG is a multi-state group of dealerships throughout the Midwest that all specialize in foreign vehicles. Thanks to IAG's resources, Hyundai Greenfield is able to carry lots of Hyundai vehicles - including Santa Fes that will likely provide all the towing you need.