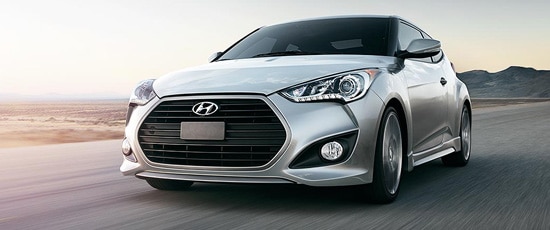 If you are looking for class, style, and affordability, then the Hyundai Veloster ought to be on your new car buying list. In this one model, you'll find the performance of a sporty coupe, the versatility of a hatchback, and the affordability of an economy sedan. The Caledonia and Brown Deer drivers who have test drove the Veloster at our dealership near Milwaukee have loved it for these and a variety of other reasons. This goes doubly true for those young drivers and outdoor enthusiasts looking for a weekend warrior-style vehicle.
Want to learn more and to see whether or not this vehicle is right for you? Consider the following exciting facets of the Hyundai Veloster:
4 Reasons Why the Hyundai Veloster is the Perfect Adventure Vehicle
A Well-Suited Sporty Look
The first thing anyone will notice of the Hyundai Veloster is its sporty exterior. This is especially true for the Turbo trim level that features exclusive exterior styling elements outfitted with twin center-mounted circular exhaust outlets. It's a look that just beckons Veloster owners to go, go, go! And no matter which trim drivers ultimately choose, the vehicle itself remains small and light-bodied. This makes navigating Milwaukee's narrow streets and parallel parking in that prime location a breeze.


An All-New Wheel
Naturally, most drivers will spend more time looking out the dashboard than they will be staring at their car's exterior. Once you are sitting in the driver's seat, you will loathe getting out. Hyundai basically reinvented the steering wheel with this model, offering a nice heating option that will keep Caledonia drivers' hands warm on even the chilliest of winter mornings. Other nice features of this vehicle's steering wheel include paddle shifters that give the vehicle a sportier driving feel.


Comfy Interior with Hatchback Possibilities
The available Hyundai Veloster boasts a unique 3-door design with a glass rear hatch that makes it a versatile adventure vehicle for those who like to explore and have toys they want to transport. Simply tuck down the split fold-down rear seat backs and enjoy an expansive storage area for things like camping equipment, work folders, and sporting gear. Once you've loaded your things, relax in the vehicle's plush and comfortable front seats featuring more lateral support than you'd expect for a vehicle within this price range. Other bonus interior aspects of the Hyundai Veloster include top-of-the-line climate control system, dazzling seven-inch LCD touchscreen, and a panoramic sunroof.


Loaded with Safety Features
Anyone who frequently goes out on road trips, camping adventures, and crosstown sprints knows the importance of safety and being prepared for whatever gets thrown your way. With the Hyundai Veloster, you can rest assured that you've got what you need to keep you safe and secure when on the road. That's because the vehicle comes packed with safety tech like Electronic Stability Control, Anti-lock Braking System, Electronic Brake-force Distribution and much more. Such integrated, next-gen safety tech is designed to help drivers avoid accidents and mitigate the damages should the unavoidable occur.
Want to Take a Hyundai Veloster for a Test Drive Near Caledonia? Visit Us at Hyundai Greenfield
The best way to experience all of the exciting facets of the Veloster is to get behind the steering wheel and hit the gas. Schedule a test drive today by contacting our friendly sales team at Hyundai Greenfield. We are proud to have a great selection of new, Certified Pre-Owned, and used Hyundais, including the Hyundai Veloster, available on our dealership lot. Come down and visit us at 6133 S. 27th St. in Greenfield, WI just a short highway drive from Caledonia.