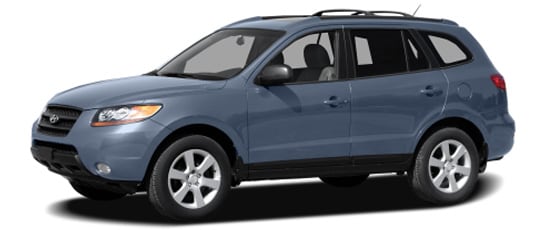 Since first being introduced to the market in 2000, the Hyundai Santa Fe has established itself as the model pick for the urban SUV class. In fact, this SUV was so popular and had so few competitors in those early years that Hyundai had a real problem with supplying the huge demand for this instant hit. At Hyundai Greenfield, the Santa Fe is most certainly one of our most favorite models and the currently available Certified Pre-Owned 2009 Hyundai Santa Fe GLS SUV is an excellent example of why so many people have fallen in love with this style:
Fall in Love with Certified Pre-Owned: Fall in Love with the 2009 Santa Fe GLS SUV
Smooth & Confident Driving Style
The 2009 Santa Fe drives remarkably well for an SUV. Drivers will enjoy its smooth riding style even when encountering the pockmarked streets of downtown Milwaukee. Leery about driving in the snow and sleet? The vehicle's Standard Electronic Stability Control inspires confidence and enables drivers to handle evasive maneuvers, such as driving in wet and slippery road conditions, a breeze. Our available Certified Pre-Owned 2009 Santa Fe comes with standard tilt and telescoping steering wheel that offers drivers flexibility and responsive steering capabilities.
Spacious, Quality-Feeling Interior
While upper trim models of the 2009 Santa Fe comes with an available third row of seating for an extra two persons, the Certified Pre-Owned base GLS trim just has the two rows of seating for five passengers. This may be a downside if you need to often act as driver for young children and their friends, it is a big upside for everyone else. That's because with the GLS the second-row of seating is so much more spacious plus you get the large rear cargo area with a hidden storage compartment that gets swapped out for tiny seats in the other trim levels. The result is an interior that feels oh so much more spacious and quality-oriented. Other nice aspects of the interior include realistic woodgrain trim along the dash and door panels, blue backlighting for interior gauges, and even cool accented blue lights around cupholders to make night-time driving (a common occurrence in the northern-located Milwaukee area) more comfortable.
Engine & Notable Equipment
The 2009 Santa Fe came with two available engines according to trim level. In the Certified Pre-Owned 2009 Hyundai Santa Fe available at our Milwaukee area dealership you'll find a 2.7-liter V6 engine paired that gets an EPA estimate of 17 miles per gallon in the city and 24 miles per gallon on the highway, an amount that is comparative to other SUVs of its year and size. The more notable aspect of this Certified Pre-Owned vehicle is the long list of standard equipment, equipment like a roof rack, dual exhaust, power windows, and six-speaker MP3-compatible CD Player. Then, of course, there's the plethora of standard safety equipment like four-wheel anti-lock disc brakes, traction control, active front head restraints, and much more that will make even the wariest of Milwaukee parents feel confident in their vehicle purchase.
Test Drive a Certified Pre-Owned 2009 Santa Fe GLS SUV Today at Hyundai Greenfield
If you live in Milwaukee or near Milwaukee in a satellite city like Racine, Oak Creek, or Whitefish Bay and are looking for a quality SUV at an affordable price, then you need to contact us at Hyundai Greenfield and schedule a test drive visit. In addition to the multi-faceted 2009 Santa Fe GLS SUV we have a number of great Certified Pre-Owned vehicles that come with Hyundai's very enviable Certified Pre-Owned Warranty Package, call us to learn more!