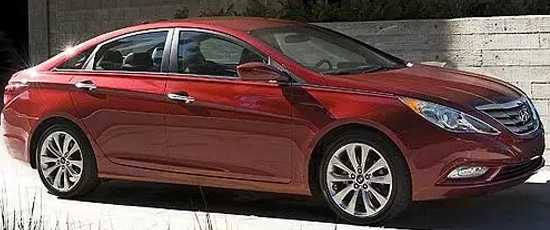 In 2011, The Hyundai Sonata got a full redesign that was met with rave reviews. With the 2012 Sonata GLS Sedan, auto engineers smoothed out the redesign to create one enviable vehicle. This year's model received Blue Link, Hyundai's then-new telematics service, a high-resolution touchscreen display, and a variety of other feature upgrades. In 2012, this was the sedan to beat in its class. Today, you can benefit from all of the advantages of the 2012 Sonata GLS Sedan while likewise enjoying the major price savings that come with buying a pre-owned vehicle. Just check out these excellent reasons to buy this used Hyundai:
Buying a Used Hyundai: Highlights of the 2012 Sonata GLS Sedan
High performance & MPG
The 2012 Sonata might be five years old, but it remains competitive with today's models in terms of performance and mpg capabilities. The GLS Sonata trim level comes packed with a 2.4-liter four-cylinder engine that produces 198 horsepower and delivers 184 pound-feet of torque. This is paired with a six-speed manual transmission as the standard transmission although there were some models outfitted with an optional six-speed automatic transmission. The 2012 Sonata GLS Sedan's 2.4-liter engine gets an EPA-estimated 24 miles per gallon in the city and 35 miles per gallon on the highway. That's a combined average of 28 mpg which makes the 2012 sedan still very competitive in terms of fuel economy with today's vehicle models.


Quality interior at an affordable used price.
The 2012 Sonata GLS Sedan feels like a high-end vehicle. The interior gives off a sharp, modern, and upscale appearance with a seamless dashboard and center stacking outfitted with precision-built knobs, switches, and similar controls. Hyundai's Blue Link telematics service offers critical services for Whitefish Bay drivers, services like emergency crash response, turn-by-turn navigational assistance via the touch screen, remote opening of the sedan's door locks, and even unique speed and curfew limits for new drivers. In fact, all of these tech features make the 2012 Sonata GLS Sedan an ideal pick for Whitefish Bay families with teenagers just starting to drive.
Save Money & Go Used with the 2012 Sonata GLS Sedan
Sure, there is a lot to love about buying a new Hyundai or another make vehicle. There is the attractive warranty package and the simple pleasure of being the first to make a model yours. But then there are also plenty of things to love about buying a used model. When you purchase a used vehicle, you get to sidestep a lot of the expensive new car fees that come standard when purchasing a new year model in Whitefish Bay and other Wisconsin towns.
Then there's also the depreciation benefits. New vehicles can lose as much as 40% of their value the moment Milwaukee owners drive it off the lot. With a used vehicle, you don't have to worry so much about depreciation as used vehicles will often hold onto their value. Depending on the driver, you can typically expect lower insurance rates for older vehicles.
So the question is, are you ready to go for a yesterday model? At Hyundai Greenfield, we are proud to house a variety of quality pre-owned vehicles at attractive prices. Not everyone can afford, nor wants to afford, a new vehicle. Purchasing a used vehicle is a great way to save money and get you those four wheels you need to get wherever life takes you. Learn more about the 2012 Sonata and other quality used models by visiting us today at 6133 S. 27th St. in Greenfield, WI. We are your neighborhood Hyundai dealer.