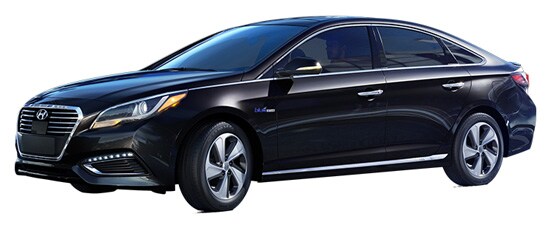 Are you interested in adding a new vehicle to your Brown Deer driveway? Today's drivers have a lot of vehicles to choose from, and you can easily spend months trying to narrow down the best type of car for you, your household, and your lifestyle. One option more Milwaukee commuters should consider is the Hyundai Hybrid. Hyundai hybrid vehicles have been available for several years now, with each year's model getting better and better. But if you're still on the fence about this style vehicle, consider the following reasons for why a Hyundai Hybrid might be the perfect vehicle for you:
Reasons Why the Hyundai Hybrid Is a Great Vehicle for Brown Deer Drivers
As comfortable, if not more comfortable to drive as a conventional sedan
The interior of Hyundai hybrids like the 2017 Sonata Hybrid are notably roomy and comfortable. Seating materials are comprised of quality padded and supportive materials. But one of the best, yet often underreported aspects of driving a Hyundai hybrid is its truly quiet driving style. The large reliance on an electric motor makes the hybrid vehicle an extremely quiet machine. Most hybrid owners find that the power shift between the vehicle utilizing its gas engine and its electric motor is often so seamless that you'll rarely notice the switch when driving or standing in traffic. Plus, the well-built cabin makes it even harder for outdoor noises to disrupt your driving experience.

The results are ideal for city driving
If you're a Brown Deer or Whitefish Bay driver who frequently commutes into Milwaukee or otherwise spends a ton of time driving around the city, then a Hyundai hybrid is definitely a smart pick. Unlike traditional cars that use the most fuel when in stop-and-go traffic, hybrids uniquely build energy when drivers go slowly and brake often. Therefore, those drivers who live, work, and play in urban environments will enjoy especially great results from a hybrid.

Save money at the pump and on your monthly insurance bill
With fuel prices inching ever upwards, now is a great time to invest in a hybrid vehicle and enjoy its fuel efficiency in years to come. In fact, fuel efficiency is one of the primary reasons drivers everywhere are getting behind hybrid vehicles. But did you know that another budget-loving reason to purchase a hybrid vehicle involves your insurance rates? Many insurance companies now offer special discounts to drivers for simply owning a hybrid with an increasing amount even creating special hybrid car insurance divisions to further target and provide the best rates for this driving niche.

Be cool and save the environment
Hybrid vehicles produce significantly less smog-producing emissions than their conventional counterparts. In an industrial city like Milwaukee, every bit of pollution reduction helps. Plus, making this purchasing decision and taking this step towards mitigating human-caused air pollution and climate change speaks volumes to your neighbors, friends, and kids. Owning and maintaining an eco-friendly car is a great way to impart environmental values to your children and your neighbors.
Visit Hyundai Greenfield Today to Test Drive a Hyundai Hybrid
Ultimately, the only tried and true way to see whether or not the Hyundai hybrid is the vehicle for you is to take one for a test drive. To check out yesterday's and today's hybrid models, come down to our Hyundai Greenfield today. Our outstanding Hyundai dealership is conveniently located at 6133 27th St. in Greenfield, WI, just minutes away from Milwaukee area suburban towns like Brown Deer and Whitefish Bay. Stop watching other people zip around downtown in their hybrids. It's time to enjoy the benefits for yourself!